We hope to see you in 2021
We are sorry it was necessary to cancel the rally in 2020 and we hope you will be able to join us for its next scheduled running over the weekend of 24/25 April 2021.
All about the rally
The 2020 will form a round of the prestigious British Rally Championship which we were delighted to be asked to join.
It will be the only round of that Championship in England. We will also be pleased to welcome back club-level competitors and their championships so you can expect a great variety of cars.
We'll bring you full details of the spectator areas nearer the time but you can expect to see the cars in Clacton itself, at Ship Hill, Bradfield plus St Mary's Church and Wick Road.

Saturday is a great day to see all the preparations at the seafront, followed by the seafront special stage at 18:00. Then on Sunday it will be an active service area, or you can visit one of three spectator areas to see the cars in action.
Where can I see the cars up close?
The service area will be along the Western Esplanade in Clacton, between the Hospital and the Toby Carvery. You'll see the rally cars close-up, see the service crews working on the cars and maybe have a chance to chat with the driver and co-driver too, especially on Saturday.

Parking will be at the car park operated by the Rotary Club of Clacton, next to Clacton Airfield in West Road. (CO15 1AJ). The charge is only £6 for the day, with all proceeds going to charity. There is no charge for spectating.
Saturday 25th April

11:00 – 16:30 Scrutineering
On Saturday afternoon the rally cars will be undergoing their technical and safety checks, called "scrutineering".

You can expect to see a wide range of cars from former World Championship machinery to historic cars such as the Ford Escort.
17:00 Meet and Greet the Top 10 cars and their crew at Clacton Pier Start
18:00 Special Stage 1 and 2 – Clacton seafront
Sunday 26th April
Service Area
The cars will leave Clacton seafront for the first stage of the day (Special Stage 3) from 08:30.
There are three loops of stages and the cars will return to the service area between these loops for service. The service area will be busy as the service crews change tyres and check the cars over before they resume competition.
The service area will be a hive of activity at the following times:
From 11:05 until all cars have passed-through
From 14:25 until all cars have passed-through
Special Stage Spectator Areas
We will publish maps, postcodes and directions nearer to the event.
Food and refreshments will be available along with toilet facilities.
Dogs – We welcome well behaved canine rally fans, strictly on leads at all times, with responsible (mess collecting) owners. Dogs may find the sudden loud noise of rally cars unsettling. Please consider very carefully whether such an environment is suitable for your dog, based on your knowledge of your pet.
VIP Hospitality
The hospitality area was very popular last year and we welcome Black Jacket Events back to Ship Hill again in 2020.
See the VIP Hospitality page for details of their viewing area, heated marquee, breakfast, lunch and afternoon snacks.
Rally Finish
After a long and exciting day the rally cars will return to the Western Esplanade for the finish and to find out who has won the Corbeau Seats Rally 2020.
Disabled viewing and facilities
Disabled/wheelchair users will be welcome at each spectator area and there will be disabled toilets. As the spectator areas are farmer's fields the recommend spectator area for disabled visitors is Wick Road. There will be disabled parking immediately adjacent to a reserved viewing area and the surface is relatively smooth.
Respecting our landowner hosts
The organisers ask that all spectators please respect landowner's property and the advice of marshals and stewards for the success of the day and future events.
Coming from outside the area?
If you are coming into Tendring and Clacton on the A120 follow the signs from the Horsley Cross roundabout to the main spectator area at Ship Hill, Bradfield.

With a fantastic panoramic view of the route as it passes through Bradfield you will be able to watch the rally cars sweep down Ship Hill round the long left hand corner and head towards Mistley. There will also be a PA system to keep you up-to-date with news of the event.
Local to Clacton?
If you are a local or staying in Clacton itself then we recommend you head to Wick Road
Souvenir Programme
The event Souvenir Programme will be available from Rally HQ, Clacton Bowling Club, and at other local outlets.
Spectator Information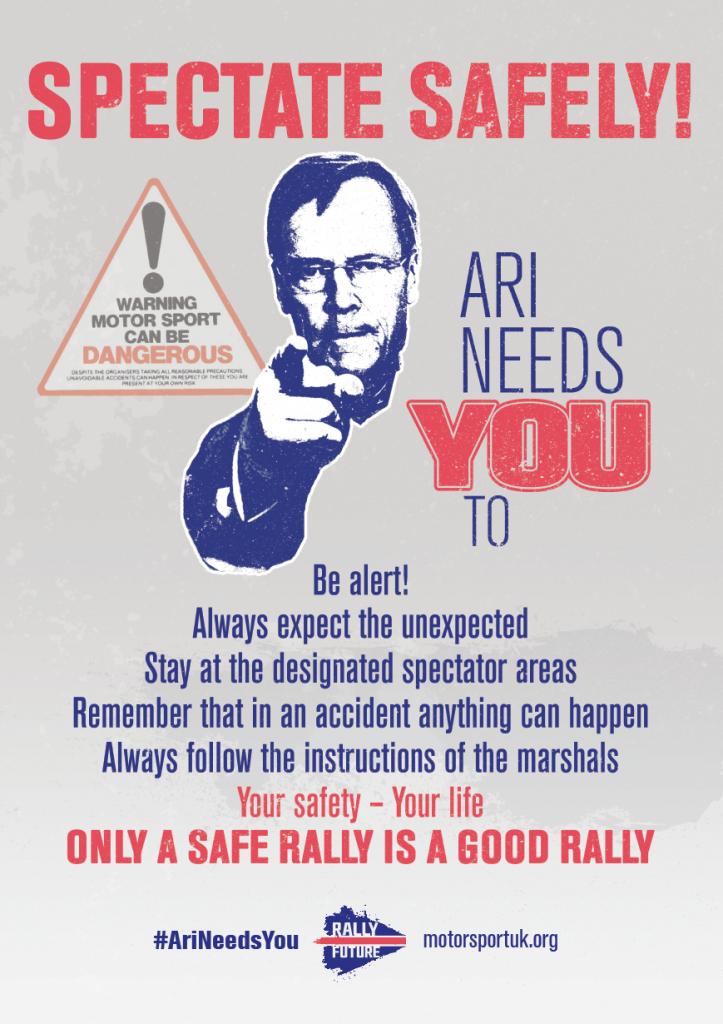 We have increased the number of spectator areas for 2020 and spectating will only be allowed at these designated locations. All other areas are out of bounds to spectators.
Please do not try to access the stages from any other roads. You will be politely requested to proceed to one of the designated spectator areas.
For your security and to avoid inconvenience to others:
Please do not leave bags, coolers, buggies or other items unattended.
Please report any security concerns or unattended items to the Stewards or the First Aid post.
It's is a condition of entry that you agree to a search of your vehicle, property or person if selected.
Local Information
A Rally Guide will be available to help you find local services and accommodation.